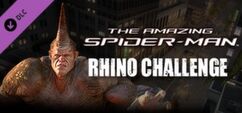 The Rhino Challenge is a downloadable content (DLC), or expansion pack for the video game The Amazing Spider-Man. It allows the player to take control of the cross-species monster Rhino and rampage through Manhattan in a race against time.
Previously only available via pre-ordering the video game from GameStop, as of September 25, 2012, it is now available for digital download from the PlayStation Store (PS3) and Steam (PC) for $2.99 and Xbox LIVE (360) for 240 Microsoft Points.
Description
"Rampage through NYC as the unstoppable Rhino and cause as much destruction as possible before the timer runs out! The more damage you inflict, the more bonus points you earn as you build momentum ramming through taxis and cars!" - DLC's description on Steam
Features
A new playable villain character, Rhino.
A free-roam mode, letting players attempt the challenge without time-racing.
A classic Sam Raimi suit for Spider-Man (plus character trophy).
Trivia
Gallery
Sources