The Hobgoblin is one of the most amazing villains in the Spider-man universe. He has multiple identities and has a rather cool look. He would be a good villain to add onto as we have already seen the Green Goblin in Sam Raimi's Spider-Man (and VERY likely will in Amazing Spider-Man 2 + onwards). Having the Hobgoblin be in this film series will offer us a different take on the goblins. If he could at least be feaured in the movie's video game spin offs, if not the actual movie, then tahtd make my day as Hogoblin is my favourite Spider-Man Villain! 
Choices for the role could be Tom Felton, Jackson Rathbone, James Laferty, Morris Chesnut, Ian Somderhader
https://www.change.org/en-CA/petitions/sony-marvel-make-hobgoblin-show-up-in-the-amazing-spider-man-movie-universe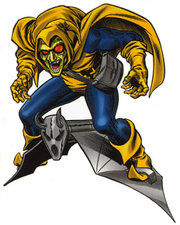 Community content is available under
CC-BY-SA
unless otherwise noted.